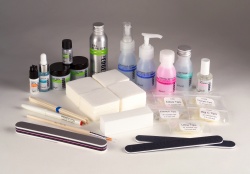 Dessa produkter säljes endast till Nagel- och Fotterapeuter. Klicka på "FÖRETAGSKUND" i menyn för information.
The Edge UV Gel System är en luktfri och självutjämnande 1-stegs gelé. Den är enkel att arbeta med och passar både till tipp- mallförlängningar.
The Edge UV Gel System kan även användas till att förstärka naturlig nagel. The Edge Nail System finns i två varianter: lösningsbar och ej lösningsbar.